The Benefits of Chiropractic Care for Children
The Benefits of Chiropractic Care for Children
Written By Atlanta Spine and Wellness on July 7, 2021
---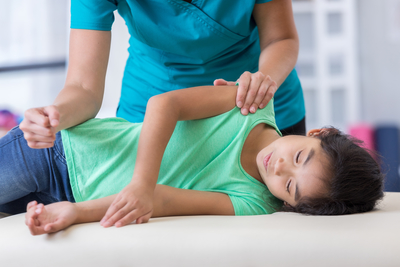 Chiropractic care is relative to the size of the patient's spine, meaning it's appropriate for people of all ages, including infants and children. In fact, parents turning to chiropractors for childcare is on the rise. At Atlanta Spine and Wellness in Chamblee, we have years of experience in treating pain and discomfort in children, including sports injuries, and we want you to take advantage of our care.
How Chiropractic Helps Infants
Birth is tough enough on the newborn's body to the point where many are born with a slight spinal misalignment. These tiny misalignments in tiny bodies can produce big issues such as difficulty breastfeeding, lead to poor sleep, and trigger colic, gas, ear infections, and constipation. A gentle adjustment can scoot vertebrae back in place and let the developing nervous system function properly so the baby develops properly.
How Chiropractic Helps Children
The human body undergoes many stages of rapid growth and development that can lead to spinal and joint misalignments the body fails to correct on its own. You can spot misalignments by looking for a tilted collarbone, one shoulder higher than the other, muscles that are tighter one side than the other. Uneven muscle tightness/flexibility often leads to joint pain.
Children also sustain their fair share of injuries and accidents as parents do their best to ensure their children survive to adulthood. Normal childhood klutziness sometimes results in injuries that lead to a spinal misalignment, along with chronic health issues if left alone. We highly recommend you take your child(ren) in to get checked out even if you suspect it's normal growing pains. Their health is just as important to us as it is to you.
Recent research shows a positive correlation between chiropractic care ADD/ADHD in children, too, since ADD and ADHD are neurological in nature. These conditions are triggered by a neurotransmitter imbalance that can be righted with appropriate chiropractic care. Studies show that chiropractic care can reduce hyperactivity and improve learning and social behaviors.
Get Quality Child Chiropractic Care in Chamblee
At Atlanta Spine and Wellness, we support as many patients as possible in their quest for health. Part of this process is education about chiropractic so you may, in turn, educate others. Dr. Heitman educates his own patients on the health and performance benefits of regular wellness-based chiropractic care. People tell him they appreciate his patient-focused practice.
Dr. Jessica Oudekerk applies various chiropractic methods that not only focus on pain relief, but also maintaining the functional integrity of the body as a whole. She is passionate about educating her patients and giving them the confidence and tools necessary to take an active role in their journey to complete wellness.
Have questions or need to schedule an appointment? Call us at (770) 392-9299 or go online and fill out our contact form.

Posted In: Chiropractic Pediatric Chiropractic