Healing Work Related Lift Injuries with Chiropractic
Healing Work Related Lift Injuries with Chiropractic
Written By Atlanta Spine and Wellness on February 24, 2020
---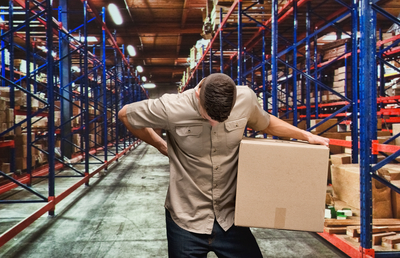 Each year, workers suffer lift-related injuries at work that result in short-term and chronic pain, stiffness, loss of motion, and more. According to the Bureau of Labor Statistics, there were over 2.8 million nonfatal workplace injuries and illnesses in 2018 alone. The same study also reported that of those injuries, there were 900,380 illnesses or injuries that caused a worker to miss at least one day of work, and a total of 333,830 of those cases resulted in a visit to a medical facility of some sort.
Have you ever lifted something heavy and felt immediate pain or stiffness? Most lifting injuries can be felt immediately after they occur. However, that pain, stiffness, and reduced range of motion can be prolonged for days or weeks without a lifting injury treatment plan. For some, a work-related lift injury can result in chronic pain.
Using Chiropractic Care for Lifting Injury Treatment
An injury treatment plan that includes chiropractic care helps alleviate a patient's pain faster. Chiropractors use a variety of manual and traditional techniques, including spinal adjustments, to correct injuries at their source.
Chiropractic helps patients recover and get back to work faster than other forms of treatment. A chiropractic treatment plan can help reduce both scar tissue and inflammation. Patients often find that the right lifting injury treatment plan also helps them avoid taking potentially addictive prescription drugs.
Creating Your Lifting Injury Treatment Plan with Atlanta Spine and Wellness
After a lifting injury, chiropractic care is a key part of a healthy recovery. Dr. Heitman works with patients to assess work-related injuries and construct a personalized lifting injury treatment plan, allowing his patients to get on the road to recovery and back to their daily lives.
Have you been injured in a lift-related accident at work? Dr. Heitman is here to help. Contact Atlanta Spine & Wellness today at (770)-392-9299 to schedule your lifting injury treatment.

Posted In: Chiropractic Workplace Injury