7 Signs of Whiplash and Why to Visit a Chiropractor After an Auto Accident
7 Signs of Whiplash and Why to Visit a Chiropractor After an Auto Accident
Written By Atlanta Spine and Wellness on September 9, 2021
---
Whiplash Treatment After an Auto Injury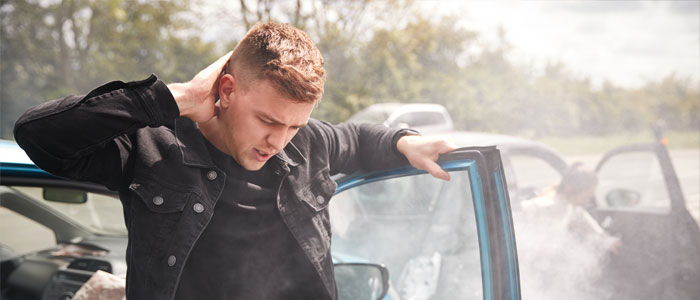 The results of an auto accident can range from mild to severe. After an auto accident, it might be hard for you to identify whether you are suffering from one of the most common conditions after an accident – whiplash. If you do realize that you are suffering from whiplash, it's best to treat it as soon as possible with chiropractic care.
Chiropractic care is a non-invasive whiplash treatment option if you want to relieve your pain without surgery, prescription drugs, or unnatural means. Dr. Christopher Heitman and Dr. Jessica Oudekerk at Atlanta Spine and Wellness can examine your injury and develop a whiplash treatment plan tailored to your specific injury. Call today for a free consultation with one of our doctors.
Seven Signs You May Have Whiplash
After your auto accident, look out for these signs. If you find that some or all of these symptoms apply to you, you may be suffering from whiplash and should reach out to our chiropractors at Atlanta Spine and Wellness.
You can hardly move your neck and head; they feel stiff and stuck.
You feel great pain in your neck.
You feel a tingling sensation in your body, likely your arms and upper body.
You feel fatigued.
You are experiencing abnormal headaches and may feel dizzy or have trouble remembering things.
You hear a constant ringing in your ears, also called tinnitus.
You experience pain in your upper body.
If you have these symptoms, schedule a free consultation so our chiropractors in Chamblee can set you up with a diagnostic plan to determine whether you are experiencing whiplash. From there, they will formulate a special auto injury treatment plan to help you recover.
Chiropractic Care for Whiplash Treatment
When you speak to Dr. Heitman or Dr. Oudekerk, they will take x-rays and evaluate you to make a final determination on whether you have whiplash. If you do, they will customize a treatment plan that includes any of a number of non-surgical chiropractic options for your auto injury treatment.
Among the most common chiropractic whiplash treatments are spinal manipulation, joint stretching techniques, and deep-tissue massage. Our chiropractors work with our trained and licensed massage therapists to bring you fast and lasting relief through these and other means.
Call for a Free Consultation
Get rid of whiplash pain today and finally fully recover from your auto accident. Visit our offices in Chamblee, GA, or call today for a free consultation.

Posted In: Chiropractic Auto Injury Treatment Whiplash Treatment