The Benefits of the Pettibon Spinal Rehabilitation System
The Benefits of the Pettibon Spinal Rehabilitation System
Written By Atlanta Spine and Wellness on August 9, 2021
---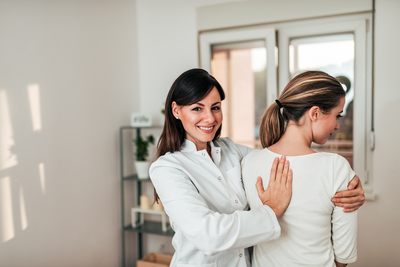 The Pettibon System is a comprehensive spinal rehabilitation program. It implements posture correction methods shown to restore normal spinal form and function while providing pain relief.
At Atlanta Spine and Wellness in Chamblee, we provide the Pettibon system in a sleek, state-of-the-art facility so we can help you get out of pain and stay out of pain with great posture.
All About Atlanta Spine and Wellness's Pettibon System
One of the advantages of the Pettibon system is that you can implement it both at home and in our clinic, meaning you don't have to wait until your next appointment to continue benefiting from rehabilitation. Patients use various pieces of equipment twice daily at home.
And when you do make a trip to our clinic, you prepare for your appointment by performing warm-up exercises and stretches for both muscles and discs using the Therapeutic Wobble Chair and the Repetitive Cervical Traction unit. These stretches and exercises hydrate spinal discs and increase disc height, preparing the spine for a treatment with lasting health benefits.
Maintaining good posture is a lifelong process. To keep this simplified, the Pettibon System implements various pieces of equipment in the clinic and at home, the home pieces used twice daily.
While at the clinic, you'll take advantage of the Pettibon weighting system consisting of specially designed head, shoulder and hip weights designed to alter your center of gravity in a way that helps your body adjust your posture. The weights force your body to do what are called isometric exercises, meaning only specific muscle groups are put to work. These exercises are shown to restore muscle strength, endurance, and balance that promotes correct posture.
Take Advantage of the Pettibon System in Chamblee
At Atlanta Spine and Wellness, we support as many patients as possible in their quest for health. Part of this process is education about chiropractic so you may, in turn, educate others. Dr. Heitman educates his own patients on the health and performance benefits of regular wellness-based chiropractic care. People tell him they appreciate his patient-focused practice.
Dr. Jessica Oudekerk applies various chiropractic methods that not only focus on pain relief, but also maintaining the functional integrity of the body as a whole. She is passionate about educating her patients and giving them the confidence and tools necessary to take an active role in their journey to complete wellness.
Have questions or need to schedule an appointment? Call us at (770) 392-9299 or go online and fill out our contact form.

Posted In: Chiropractic Spinal Decompression Spinal Rehabilitation