The Benefits of Chiropractic Care for Pregnancy and Kids
The Benefits of Chiropractic Care for Pregnancy and Kids
Written By Atlanta Spine and Wellness on May 21, 2020
---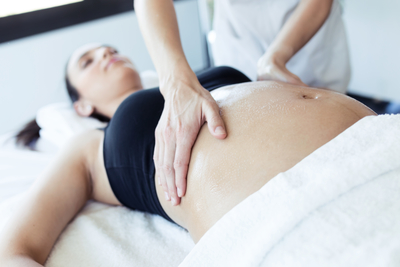 Around 50 percent of pregnant women experience lower back pain during their pregnancy. While aches and pains may seem like a normal part of pregnancy, relief of these symptoms is achievable in an all-natural, drug-free way.
Chiropractic care for pregnancy comes with a lot of benefits, including pain relief, better posture, and a more comfortable pregnancy. Chiropractic care for kids carries many of the same benefits as those received by adults. In fact, children are also commonly treated for conditions such as frequent migraines with the use of chiropractic care.
Is Chiropractic Care for Pregnancy Safe?
Chiropractic care can involve dietary recommendations, targeted exercise, physical therapy, massage therapy, manual chiropractic adjustment, and more. These treatments are tailored to each patient, especially when it comes to treating pregnant women.
Yes, chiropractic care is believed to be safe during pregnancy. However, there are some conditions where chiropractic care is not recommended, including:
When receiving chiropractic care for pregnancy in Chamblee, it's essential that you let us know that you're pregnant. Chiropractors must use adjusting tables to accommodate a pregnant woman and techniques that avoid pressure on the abdomen.
The Benefits of Chiropractic Care for Pregnancy and Kids
Chiropractic care for pregnancy offers several benefits to pregnant women. During pregnancy, physical changes can impact your posture, misalign your joints, or misalign your spine. In some cases, a pelvis that is misaligned could influence the position of the baby, potentially leading to a more complicated delivery.
Pregnant women who receive chiropractic care can also receive benefits such as:
Pain relief in the hip, back, neck, and joints
Help controlling nausea
A healthier, more comfortable pregnancy
Finding the Best Chiropractic Care for Pregnancy in Chamblee
Dr. Christopher B. Heitman has always been passionate about helping others achieve better health. While using a patient-focused approach, Dr. Heitman integrates natural healthcare into modern medicine to treat the underlying causes of a patient's symptoms.
Are you searching for your options for chiropractic care for pregnancy in Chamblee? Contact the team at Atlanta Spine and Wellness today at (770) 392-9299 or schedule an appointment online to get started.

Posted In: Chiropractic Pregnancy Chiropractic Pediatric Chiropractic