Natural Chiropractic Treatment for Scoliosis
Natural Chiropractic Treatment for Scoliosis
Written By Atlanta Spine and Wellness on November 9, 2021
---
Treat Your Scoliosis with Chiropractic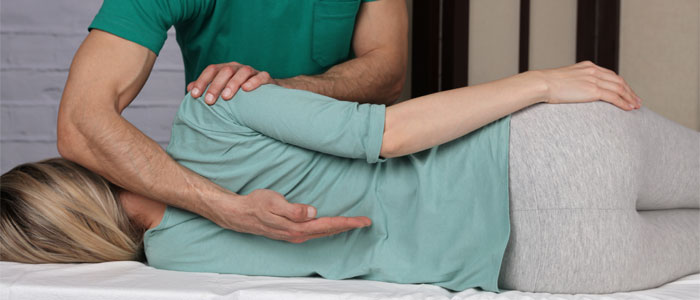 Scoliosis is a spinal condition characterized by an unnatural sideways curvature of the spine. A scoliosis diagnosis can cause a patient much anxiety because of the many uncertainties surrounding the condition. Scientists and researchers have yet to determine its exact cause or find a cure. However, patients can still achieve relief from painful and uncomfortable symptoms through natural scoliosis treatment with chiropractic.
Our chiropractors at Atlanta Spine and Wellness can help improve your quality of life and achieve pain relief as you navigate this condition. Call us to set up a free initial consultation to get started on your personalized scoliosis treatment plan.
Why Choose Chiropractic for Scoliosis Treatment?
Many scoliosis patients have found that they can manage the pain and discomfort associated with the condition through routine chiropractic care. In Chamblee, Dr. Heitman provides scoliosis treatment to patients who do not want to constantly take over-the-counter pain medication or consider surgical methods of pain management.
Chiropractic care is gentle on the body and does not carry the risks associated with pain medication, like certain side effects or the possibility of addiction. Many scoliosis patients find that they cannot lead an active lifestyle, but chiropractic care can help you improve your range of motion and boost your activity levels.
Holistic Scoliosis Treatment at Atlanta Spine and Wellness
When you schedule a free consultation and begin a conversation with our chiropractors, they will first meet with you to examine your condition and learn about your medical history. They might perform an x-ray to determine the extent of the condition. Then, they will formulate a personalized plan to manage your pain and discomfort, improve your mobility, and treat other symptoms.
Our chiropractors then work along with our licensed massage therapists to provide you with the holistic care that you need to manage the condition. We can't take your scoliosis away, but we can help you make living with the condition more manageable through personalized care delivered by professionals who put your needs first.
Schedule a Free Consultation
If you are living with scoliosis, you don't have to resort to invasive procedures, prescription drugs, or over-the-counter medications to manage your pain. Chiropractic care is a natural scoliosis treatment option that could change your life.
Schedule a time to have a free consultation with our health care team today, and take the next step in improving your quality of life.

Posted In: Chiropractic