Maintain Optimal Health and Energy with Workplace Ergonomics
Maintain Optimal Health and Energy with Workplace Ergonomics
Written By Atlanta Spine and Wellness on August 4, 2020
---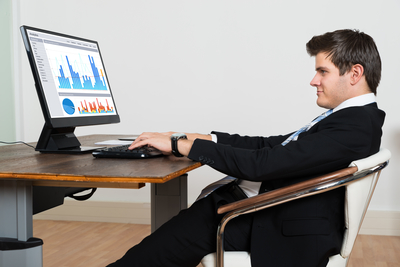 Did you know that the average office worker sits for 15 hours every day? Workplace ergonomics not only helps you be more comfortable at the office, but it also can prevent musculoskeletal disorders that affect nerves, muscles, tendons, ligaments, and more.
Whether you're currently experiencing pain from your office chair or are looking for preventive treatment, workplace ergonomics support your optimal health and energy.
What is Workplace Ergonomics?
Workplace ergonomics is the science behind designing a company environment with the employee's body, capabilities, and job function in mind. It also helps remove risk factors that often lead to injuries and improve your performance—thus impacting your company's bottom line.
Workstations are easily adjusted by altering the position of your:
Chair
Telephone
Keyboard and mouse
Footrest
Desk
Monitor
With furniture adjustments, take into account your height, weight, job, and more to create a workstation that fits your needs. It's important to note that everyone's ideal ergonomic placement is different.
Workplace Ergonomics Benefits
Sitting for a prolonged period leads to a greater risk of obesity, high blood pressure, and heart disease. However, workplace ergonomics provides proper positioning within your body's capabilities and limitations so you can safely perform your job at full capacity.
Additional benefits include:
Improved work posture
Enhanced productivity
Increased employee engagement
Reduced company costs
Simple Tips to Improve Your Work Posture with Ergonomics
If you're ready to ditch painful aches and embrace workplace ergonomics, start with these tips to improve your posture and overall health:
Maintain a neutral posture when sitting or standing to reduce stress on your body
Work within the 'comfort zone' to reduce any excessive reach
Stand up or walk around to avoid fatigue
Reduce excessive motions to eliminate force and awkward postures
Minimize contact stress on fingers, palms, feet, and thighs
With the right workplace ergonomic structure in place, you can work towards improving your posture and developing a safe work environment.
Improving Posture with Chiropractic in Chamblee
If you're still feeling stiff after adopting workplace ergonomics, consider chiropractic treatment as a way to improve your work posture and gain optimal health. Dr. Christopher Heitman, D.C. and Dr. Jessica Oudekerk, D.C. at Atlanta Spine and Wellness will develop a personal treatment plan based on your needs to help you live a long-term healthy lifestyle.
Schedule an appointment at Atlanta Spine and Wellness to improve your work posture today.

Posted In: Chiropractic Low Back Pain Neck Pain Workplace Injury