Is Spinal Decompression Painful?
Is Spinal Decompression Painful?
Written By Atlanta Spine and Wellness on December 16, 2020
---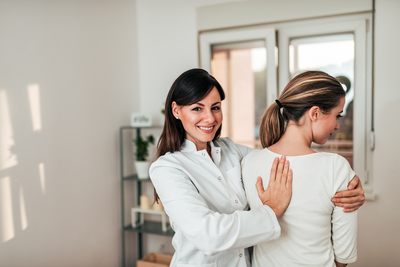 As a leading cause of disability, back pain accounts for more than 265 million lost workdays annually. In fact, it's estimated to cost U.S. citizens approximately $60 billion each year. There are many treatment options for back pain, including physical therapy, medications, surgical and non-surgical, such as spinal decompression, etc. The type of treatment you receive will depend on your official diagnosis and its severity.
Common causes of back pain include:
Stress
Inflammation
Arthritis
Pulled muscle or tendon
Bulging or ruptured disks
Pinched Nerves
Trauma
Slouching
Lifting heavy objects
Spasms
Fractures
Again, depending on the nature of your pain, several treatment options can be considered. For those looking for a non-surgical, pain-free option, spinal decompression is an option.
What is Spinal Decompression?
Spinal decompression is a non-surgical procedure that has been shown to help treat disabling pain in several areas of the body, including:
During this procedure, patients are strapped into a harness that is attached to a motorized table. Your doctor or chiropractor will program your treatment to the computer, and each session will last approximately 8-12 minutes and may be as frequent as 3-4 times per week.
Is Spinal Decompression Painful?
While the idea of being strapped into a motorized table can be a bit intimidating at first, patients can rest assured knowing that this treatment is very gentle, and the majority of patients report experiencing no pain during their treatment.
Spinal Decompression's Effect on the Body
This procedure is a form of traction therapy that reduces the pressure on the spinal discs and joints by gently stretching the spine, helping to reposition it to take the stress off any discs that may have bulged out of place. This can also help to move those discs back into alignment.
Patients often feel immediate relief from their pain as this procedure helps to promote the movement of water, oxygen, and other nutrient-rich fluids into the spine and discs to promote healing.
Spinal Decompression in Chamblee, GA
Back pain can result from dozens of conditions, and while it is a common symptom, it should never be written off as "no big deal." Here at Atlanta Spine and Wellness, we know that pain needs to be taken seriously, and we take the time to get to know each patient, what brings them in, and their health history to ensure we are delivering them the best treatment possible.
Have questions about spinal decompression? Then call our office today at (770) 392-9299, and we'll get your questions answered!

Posted In: Chiropractic Spinal Decompression