How Chiropractic Care Helps With Allergies
How Chiropractic Care Helps With Allergies
Written By Atlanta Spine and Wellness on April 21, 2020
---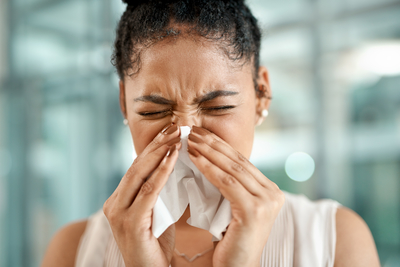 While common, allergies are associated with an onslaught of symptoms, including stuffy nose, sneezing, itching, and watery eyes. For some, allergies may become so bad that it impairs the ability to breathe or interferes with their daily lives.
It's estimated that 40 percent of the world's population suffers from allergies. Unfortunately, allergy season has worsened year after year due to rising temperatures around the globe. The rising temperatures make for a more extended allergy season and increase the amount of airborne pollen in the air.
Chiropractic care for allergies offers a drug-free approach to finding symptom relief. Chiropractic solutions are helpful for patients who do not wish to rely on medications as well as those seeking more relief than their medication provides.
How Do Allergies Work?
Allergy symptoms occur when your immune system encounters an irritant that it mistakenly sees as harmful. Your immune system attacks the irritant more ferociously than warranted by creating an antibody known as immunoglobulin. This antibody releases histamines, which consequently cause the allergy symptoms that you experience.
The five most common allergies are:
Pollen
Dust mites
Mold
Grass
Weeds
How Chiropractic Care for Allergies Work
Chiropractic care for allergies offers patients with an all-natural solution to allergy symptoms. The immune system and the nervous system are closely interlinked. Chiropractors can work with patients to regulate and control their bodies ' reactions to irritants by helping improve the communication between the spinal cord and brain.
Chiropractic adjustments can boost the immune system and regulate stress hormones. Those suffering from seasonal allergies may experience weakened adrenal glands, which help moderate allergic reactions under normal circumstances. In addition to chiropractic adjustments, your doctor may also recommend lifestyle or dietary changes that can boost your health, comfort, and immune system.
Finding Chiropractic Care for Allergies in Chamblee
Dr. Christopher B. Heitman began his journey into chiropractic are after he sustained spinal trauma as a teen in a football-related injury. Chiropractors were a crucial part of his recovery and fueled his own desire to help people achieve better health. With a patient-focused approach, you'll feel confident that you've come to the right place.
Don't suffer from allergies. Atlanta Spine and Wellness offers chiropractic care for allergies in Chamblee. Contact us today at (770) 392-9299 or schedule an appointment online.

Posted In: Chiropractic Allergy Relief