Can Chiropractors Treat Headaches?
Can Chiropractors Treat Headaches?
Written By Atlanta Spine and Wellness on September 4, 2020
---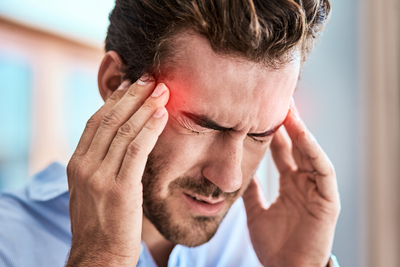 Headaches are a common nervous system disorder that affects 75% of adults worldwide. Whether you experience chronic headaches or one every once in a while, they can cause you a tremendous amount of pain and affect your day-to-day life.
How can you find relief from pounding headaches? Chiropractic offers a natural, non-invasive headache treatment plan that targets your pain so you can live a healthier life.
What Causes Headaches?
95% of all headaches are categorized as a primary disorder, such as cluster, tension, or migraine, while the other 5% are attributed to physical problems. With more adults sitting in a desk chair all day, the majority of headaches stem from muscle tension in the neck. When you sit in a position or posture for a prolonged amount of time, you may experience joint and muscle irritation in your neck, upper back, or scalp that can cause headaches. You may also experience headaches from environmental stimuli, lack of sleep, or blood sugar changes.
How Chiropractic Helps Find You Headache Relief
Chiropractors believe in a holistic headache treatment approach that revolves around how tension in your spine causes other pain throughout the body. When you visit a Chamblee chiropractor, they will conduct a physical, medical history, and lifestyle exam to discover the root cause of your headache pain and design a personalized treatment plan based on your needs.
Chiropractic headache treatment options include:
Spinal manipulation: Performs controlled adjustments to improve your spine's function and stress
Massage therapy: Relaxes muscle tension and joints that are commonly associated with headaches
Lifestyle changes: Advises on diet and exercise to reduce recurring irritation
Preventing Headaches at Home
Before seeking headache treatment, you can follow a few simple tips to prevent future headaches and pain from the comfort of your home:
Take a 30-minute break when you find yourself sitting or standing in a fixed position
Engage in low-impact exercises like walking and yoga
Avoid clenching your upper and lower teeth together
Drink eight glasses of water a day
Headache Treatment in Chamblee
If headaches are a burden on your life, you don't have to live with the pain anymore. Dr. Christopher Heitman, D.C., and Dr. Jessica Oudekerk, D.C., will work with you to develop a custom headache treatment plan to help you find long-term relief.
Say goodbye to headaches and schedule an appointment at Atlanta Spine and Wellness today.

Posted In: Chiropractic Headache Treatment